New lyf@SMU is set to be a trend-setting co-study, co-work, co-living space that also serves as a 'living lab' for applied research.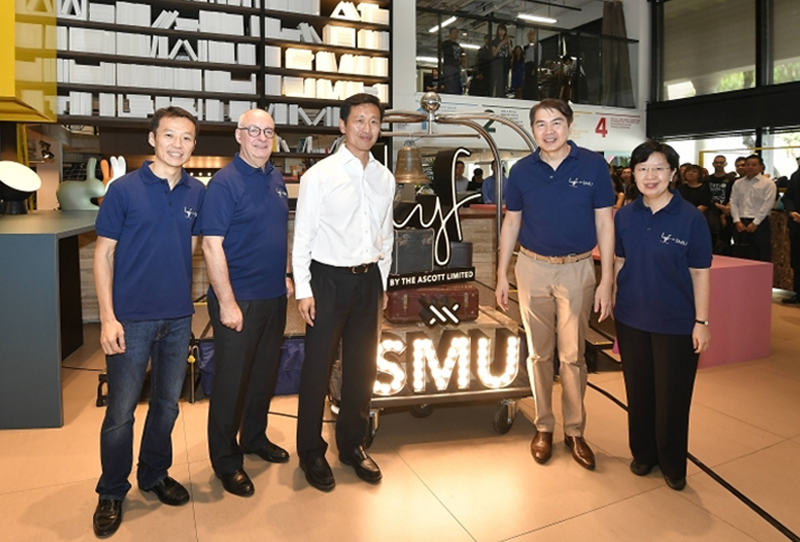 yf@SMU was officially unveiled today amid much fanfare and celebration by (left to right in photo) Mr Lee Chee Koon, CEO of The Ascott Limited; Professor Arnoud De Meyer, SMU President; Minister Ong Ye Kung; Mr Lim Ming Yan, President & Group CEO of CapitaLand Limited; and Professor Lily Kong, SMU Provost.
The new lyf@SMU (lyf stands for Live Your Freedom) located within the SMU Labs offers SMU students a dynamic and trend-setting co-study, co-work, co-living environment that also serves as a 'living lab' where applied research simultaneously takes place.  SMU also announced that it has successfully 'mainstreamed' SMU-X courses to give every student the opportunity to take at least one SMU-X module during the course of their study.  In the forth-coming Academic Year 2017-2018, at least 27 modules will be on offer and another 2,000 students are expected to partner with organisations across all sectors.
Over the next three years, SMU and The Ascott Limited (Ascott) will co-invest and co-manage lyf@SMU.  Together, they will also work with other industry partners, as well as SMU's own research centres and labs, to test-bed new innovations, technology and products on-premise, starting with Vanguard Interior, Harman International, Samsung, Eon Reality and the SMU LiveLabs Urban Lifestyle Innovation Platform.  Concurrently, experiential SMU-X courses and projects are also being developed with some of these companies, whereby SMU students will work with them to tackle their current business challenges.
SMU introduced SMU-X courses in 2015 to give students real-world, hands-on experience through a structured pedagogical approach that involves working collaboratively in groups and solving actual, inter-disciplinary problems faced by companies and organisations, under the guidance and mentorship of faculty and practitioners.  Through SMU-X, the University aims to train its undergraduates to 'learn how to learn', and nurture skills-set to prepare them for the volatile working world.  SMU-X also serves to create a mindset for collaboration across disciplines, as well as with external stakeholders from diverse fields.
In a relatively short period of two years, SMU has conducted 33 unique modules (equivalent to 118 course-runs) together with about 200 partners.  More than 3,500 students have delivered about 500 projects.  The partners comprised private companies (70%), public and government-related agencies (15%) and NGOs (15%).  Of the 140 private companies, more than 60% are small-and-medium enterprises, start-ups or social enterprises.  The industry exposure and networking opportunities that undergraduates gain from their SMU-X projects will stand them in good stead when they graduate and enter the workforce.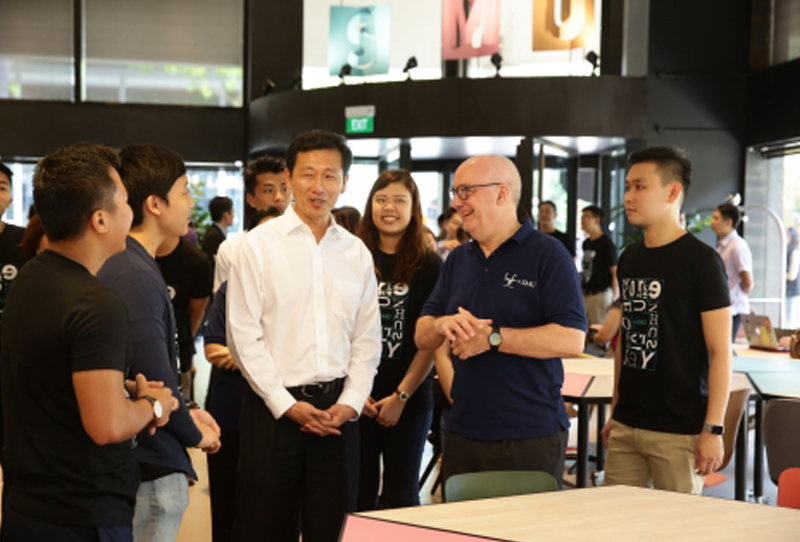 [Photo: SMU student leaders giving Minister Ong Ye Kung a tour of the newly launched lyf@SMU located at SMU Labs.]
SMU President, Professor Arnoud De Meyer, said, "I am very happy that we have managed to bring SMU-X to so many students and partners within a relatively short time, and with tremendous feedback.  I am especially proud that we have many 'repeat clients' as well.  Applied research is what makes us relevant to our communities and is where we add value to our society.  For our students, this exposure that they gain will definitely enhance their employability when they graduate.  In fact, some students go on to receive internship and job offers from their project clients."
"As we further strengthen our SMU-X curriculum and offering, I'm also delighted that we found a like-minded partner in Ascott.  In this multi-dimensional partnership – which includes incubating new spaces for millennial students, developing new SMU-X courses and projects, creating internship opportunities – our students will stand to gain the most."
Mr Lee Chee Koon, Ascott's Chief Executive Officer, said, "Following the launch of lyf last November after extensive market research, Ascott has now set up the serviced residence industry's first-of-its-kind living lab in Singapore, in partnership with SMU.  We will be directly engaging the more than 1,200 millennials expected to visit lyf@SMU daily to field test various co-living concepts and community building activities.  Data on the students' space usage patterns, coupled with direct feedback from the students, will enable us to better tailor lyf to their needs as they prepare to become working professionals, our main target customers of lyf.  SMU students can also sign up to be lyf guards at lyf@SMU to gain hands-on hospitality management skills or participate in courses to learn about and discuss Ascott's branding and marketing strategies."
[Photo: Minister Ong Ye Kung enjoying a game of foosball with SMU students.  On Minister's left is Mr Lee Chee Koon, CEO of The Ascott Limited, and on Minister's far left is Mr Lim Ming Yan, President and Group CEO of CapitaLand Limited.]
SMU expects lyf@SMU to be a new platform where the University will host many SMU-industry events catering to students as well as the general public, such as TED talks, boot-camps, and hackathons.  "It is all about co-creation and working together to help our community.  We look forward to welcoming more stakeholders into our campus, and strengthening our relationships as a university in the heart of the city," added Professor De Meyer.
Innovative, trendsetting spaces at lyf@SMU
Level One
Events Square (entrance and signature bookshelf)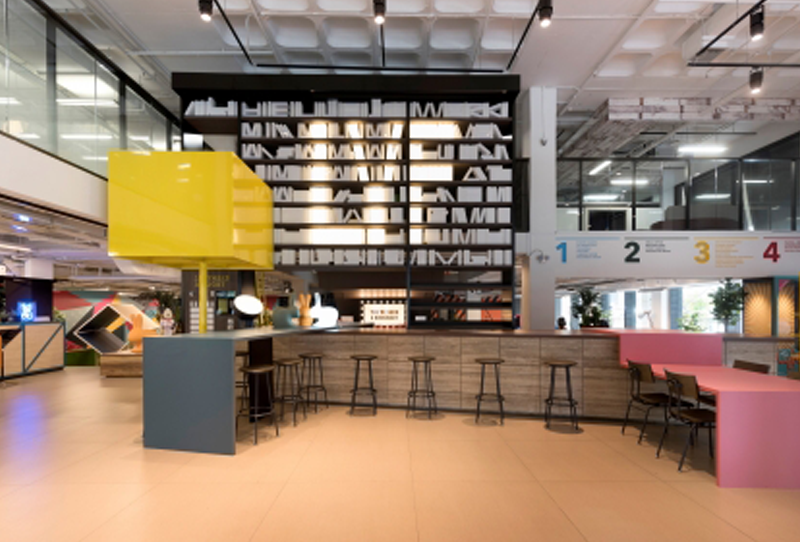 With quirky design elements, each lyf property has its own unique personality. Communal and co-living spaces facilitate interaction while co-working areas can be transformed into zones for workshops or gatherings.
lyf is about creating spaces that are flexible in use. This is why most of the furniture in the Events Square is easily movable and can be readily reconfigured for different uses, from studying to talks by local entrepreneurs.
In line with lyf's focus to provide authentic local experiences, local businesses and artisans are a key part of lyf's community. Singapore artist Michael Ng, better known as Mindflyer, was commissioned to create a mural specially for lyf@SMU. Brands and SMU students can also use the pop-up retail space to showcase their products.
The key feature of the Events Square is the double storey bookshelf, inspired by the building's history as the home for Singapore's renowned Malaya Publishing House. There is also a mezzanine DJ booth incorporated in this centerpiece, a platform for students to showcase their talents. Ascott will work with professional DJs and SMU's student DJ club, Stereometa, to liven up the place.
The Park (social area)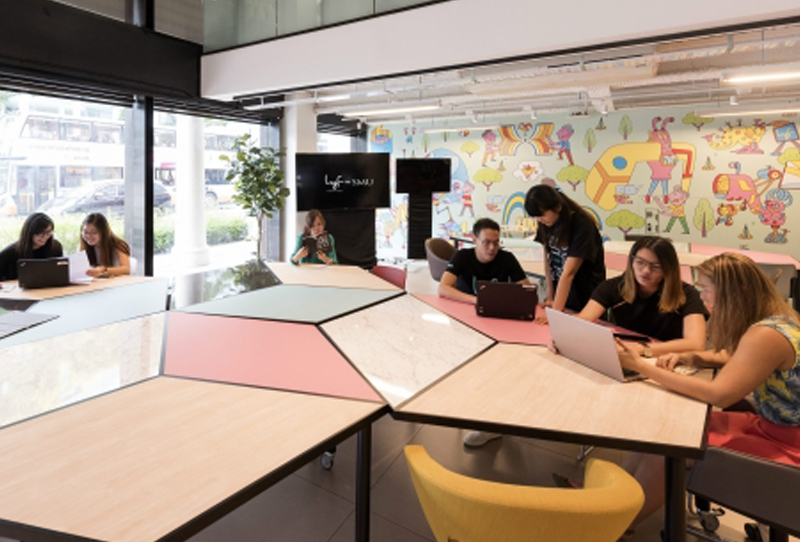 The Park is designed for students to collaborate, have fun and learn. With a customised foosball table for more than 20 students to play at once and a reimagined cube for table tennis, it inspires one to rethink the world of possibilities.
Students can de-stress or work up a sweat on the bikes to power up their mobile phones at the cycling corner, doing their part for the environment.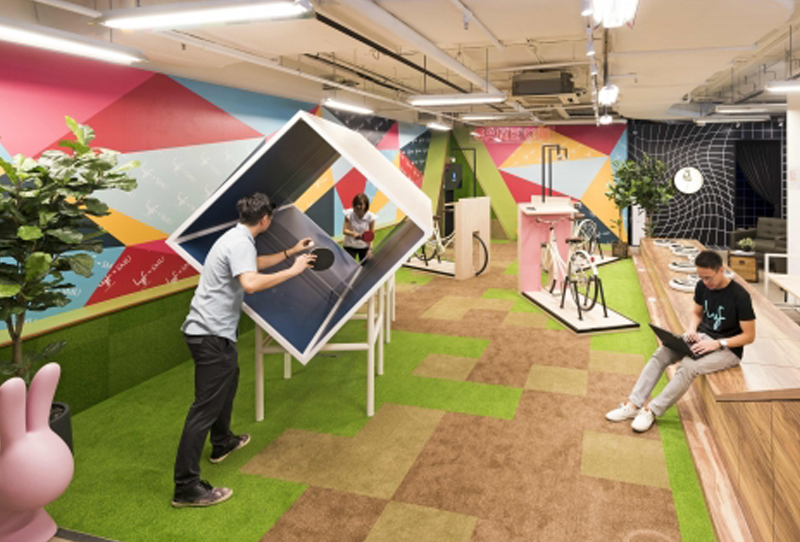 Jamming Area
For those looking for some inspiration from music – the soundproof jamming studio will allow students to rock out with fellow musicians, perhaps even inspire each other to write a song or two.
Multimedia Room
The room will have new gadgets such as headphones and virtual reality goggles for students to try out and share their reviews. Products which are well-received will also be introduced in upcoming lyf properties.
The Arena
The Arena has a cozy study and discussion area with a window view of the shophouses across the street from lyf@SMU. There is also a boxing ring for students to have a knockout debate or snap some Instagram-worthy photos.
Level Two
Interactive Walls
A key element of Ascott's living lab, the interactive walls allow students to vote and give feedback on various topics. As a start, they will have a say in the design selected for the co-living areas on level three of lyf@SMU. They can vote for either day beds, swings or even a giant hammock for the discussion and collaboration room.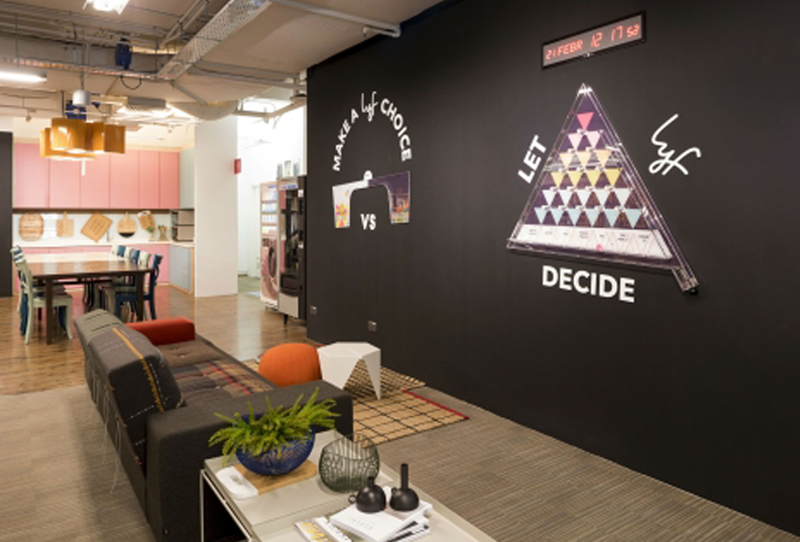 Workshop Spaces
Residents at lyf can co-organise or simply sign up for makers' workshops, hackathons or innovation talks. Likewise, at lyf@SMU, students will also be invited to co-create community programmes.
Level Three
Social Kitchen
Communal spaces such as the social kitchens are where lyf residents will meet and interact with fellow change-makers. In lyf@SMU, the international mix of students can come together to mingle over a meal at the kitchen.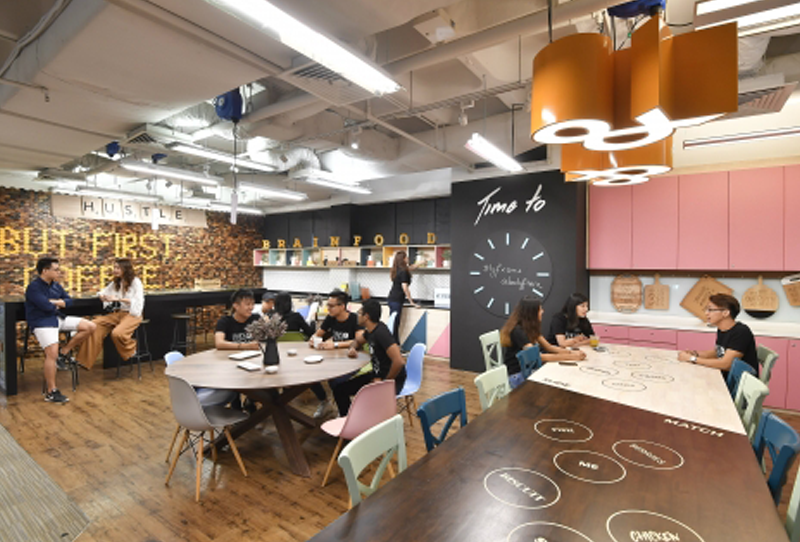 Co-living Concept Rooms (Phase 2)
Besides the collaboration room that will be designed based on the students' choice, there will also be other co-living concept rooms for students to steal a snooze on the bunk beds, hammocks or hang out with friends at the 'beach-inspired' discussion room.